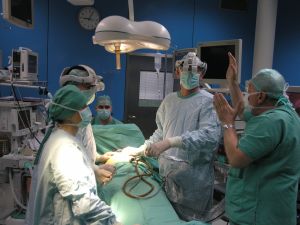 Doctors and Staff
The Western Hospital guarantees medical care at a world-class level. To meet the highest medical standards possible our whole team including doctors, nurses, and technicians are extremely specialized. We employ only the most experienced doctors and valued medical authorities with high academic distinctions. Our nurses' work meets the highest health care standards. Many nurses are university educated or currently enrolled in institutes of higher learning. We know that one of the most important aspects of successful healthcare is swift, exceptional cooperation between a hospital team.
With the needs of our patients in mind, we are continuously improving the quality of our medical services. Our team is focused on our patients' health and comfort. That is why from the very beginning we build a strong partnership with our patients. We know that we take on a serious responsibility each time a new patient comes to our hospital.
From the time when the first patients arrived at our hospital years ago, our medical standards have been continuously evolving and improving to meet the needs of our patients. This is something our medical team knows and takes pride in. Our success has not been easy, it has come about through a great deal of hard work!