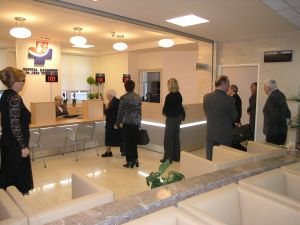 Front Desk
In our hospital a patient's needs and comfort are of the utmost import_ance and are our top priority. With that in mind we have created a number of services and facilities which ensure this and which make time in our hospital more pleasant.
We know that not only good medicine but also a comfortable stay influence a patient's health and recovery in a hospital. Each year we try to increase the number of features and services which make a stay in our hospital more convenient for patients and their guests, friends and family. We want the people who visit our hospital to be provided with the very best services.
Waiting rooms
The Western Hospital gives patients and their guests the opportunity to spend time in waiting rooms with comfortable conditions. Relaxing music, comfortable armchairs and soft sofas provide the perfect environment to rest, read a newspaper, or a good book.
Internet
In our hospital patients have access to high-speed wireless Internet.
Smoking Prohibited
Smoking is not allowed in the Western Hospital.
Garden
A beautiful garden full of flowers and trees is located just behind the hospital. In the centre of the garden is a small pond. During spring and summer time, as well as early autumn, it is enjoyable to go outside and walk around a little bit, read, or just enjoy the sun, surrounded by lush greenery and sweet smelling plants.
Parking
At the Western Hospital there are 80 parking spaces for patients and their visitors.
Buffet
The buffet is located in the hospital Main Lobby and is open daily. Patients can go there and try some Polish specialties, drink coffee or tea, or simply read a newspaper.
Newsstand
Our hospital newsstand offers books, newspapers, magazines, sweets, toys as well as cosmetics and souvenirs.
Bank
A branch of a bank is located in the Western Hospital, so if patients need to make a bank transfer or require some other banking service it is possible in our hospital.
Pharmacy
The pharmacy offers pharmaceuticals, clinical products, and home medical equipment.
Services available upon patient's request:
Rehabilitation
It is possible to arrange individual rehabilitation programs which are adaptable to the needs of patients with differing ailments. Depending on the rehabilitation program it can take place in a patient's room or in special rehabilitation facilities.
Meals
Upon request we offer our patients the possibility to have specially prepared meals in accordance to specific dietary restrictions, for example vegetarian or vegan (or something else according to the patient's requirements).
Special Services
We know that during their stay in the hospital patients want to have approximately the same non-medical services as they would have in normal life, outside of hospital facilities. Services which help patients feel clean, neat and relaxed are especially import_ant. That is why at the Western Hospital we give our patients - upon their request – the opportunity to have beauty, massage and spa treatment. We offer for example:
- manicure
- massage
- hairdressing
Should the patient wish, many of these services can be provided in their room.