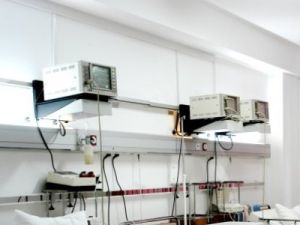 Internal Department
Head of the Department
Marek Stopiński, MD, PhD
Deputy Head of the Department
Mirosława Bednarska, MD
Deputy Head of the Department
Małgorzata Osiadacz, MD
Head Nurse
Beata Perzyńska
Number of beds: 69
The Internal Medicine Ward has 69 beds in double and triple rooms with separate sanitary facilities. Moreover in the ward there are intensive care rooms specifically designed to accommodate patients in critical condition. We offer diagnosis and treatment using the following modern equipment:
-Endoscopy Unit
-Cardiology Unit:
• Holter Unit
• Exertion ECG Unit
• Echocardiography Unit
-Spirometry Unit
-Ultrasonography Unit
-Radiology Unit with computer tomography and magnetic resonance
The ward is on duty every day, and can receive patients with internal diseases.
The ward has accreditation from the Polish Ministry of Health to specialize in internal medicine.