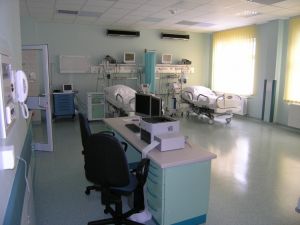 Anesthesiology and Intensive Care Unit
Head of the Department:
Alicja Derlecka-Byś, MD
Head Nurse:
Anna Podsiadła
There are six specialists in the Anesthesiology and Intensive Care, including one PhD, and five residents. 36 experienced nurses (who have certificates from programs in Anesthesiology and Intensive Care) are employed in the ward.
Anesthesia and ICU is a modern department that fulfills Polish and EU standards. There are 8 ICU beds, an isolation post and 6 beds in the postoperative room. Our doctors work in 5 operating rooms of the central operating block.
Specialist medical and nursing teams permit a high level of treatment and the usage of modern medical equipment.
The range of activity
- Treatment of patients in critical condition
- Consultations: Preparing patients for planned or sudden operations
- Performing all types of anesthesia for all operations, as well as endoscopic and radiologic procedures
- Postoperative care
- Pain therapy after operations
- Anesthesiology consultations in all wards of the Western Hospital
- Performing the cannulation of central veins and carrying out invasive anesthesiologic procedures for patients of the Western Hospital.
- Setting up all types of dialysis catheters, including permanent catheters
- Providing advanced life support – resuscitations and interventions in life threatening situations at the Western Hospital.