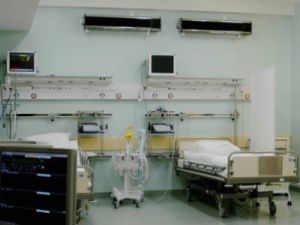 Neurological and Apoplectic Unit
Head of the department: Matylda Strzelecka-Górzyńska, MD
Ward Nurse: Mirosława Popławska, MSc
Number of beds: 25, including:
- 4 beds in the Neurology Intensive Care Unit (NICU)
- 6 monitored beds
The Neurology and Stroke Unit was established in January, 2004. Now it is one of most modern wards in the Mazovian Voivodship. The ward has four bedrooms for intensive neurologic care of patients in critical condition. We also have rooms with increased supervision, featuring six monitored posts, which are designed to observe and treat patients in an acute phase of brain stroke. Modern diagnostic equipment, the possibility of early rehabilitation, and contact with specialists ensures safety and a comfortable stay for patients.
The ward specializes in the diagnosis and treatment of the sudden onset of neurological symptoms, especially brain strokes, epileptic seizures, syncopes, and acute inflammatory diseases of the nervous system.
We cooperate with the leading clinics of medical universities in specialist diagnosis and neurological rehabilitation.
Since 2005 we have introduced a thrombolytic treatment for the acute phase of ischemic brain stroke. We have also joined the POLCARD program supervised by the Polish Ministry of Health.
We carry out educational programs for emergency doctors, general practitioners and residents of neighbouring counties, dealing with possible treatments for patients who have suffered brain stroke.
The ward has accreditation from the Polish Ministry of Health for training specialists in Neurology and for providing supplementary trainings for doctors of other specializations.
The range of activity:
Diagnosis and treatment of:
-Life threatening neurological conditions
-Brain strokes
-Epilepsies
-Degenerative diseases
-Neuromuscular diseases
-Neoplastic diseases
-Inflammatory and immunological diseases of the central and peripheral nervous system