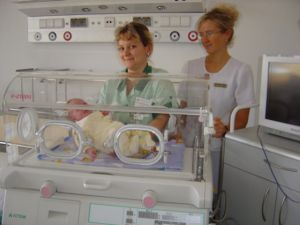 Departament of Pediatrics
Head of the department:
Marta Kowalewska, MD
Head Nurse:
Bożena Grygiel
Number of beds: 26
The Paediatric Ward first received patients at the beginning of 2004.
We treat patients from infancy to 18 years of age.
Ward's Structure:
In-patient service:
- three rooms for older children
- three triple bedrooms for children at the pre-school age
- three triple bedrooms for infants, equipped with nursing posts
- four bedrooms with video-camera monitoring
- an isolation room with separate sanitary facilities
Offered Services:
Both inpatient and outpatient services offer diagnostics and treatment in the following areas:
-General pediatrics
-Respiratory system- spirometry, alergologic tests,
-Urinary system – ultrasound, cystography, bacteriological tests, calculosis risk evaluation
-Nervous system – electroencephalogram (EEG), computer tomography (CT), neurological consultations
-Haematopoietic system
-Digestive system- gastroscopy, colonoscopy, rectoscopy
-Circulatory system- radiological examinations, electrocardiogram (ECG), exertion ECG, Holter, echocardiography, cardiological consultations
We use high quality medical equipment and we ensure access to specialist diagnosis.
Specialist Consultations:
Children admitted to the ward are consulted by:
-neurologists
-cardiologists
-ophthalmologists
-otolaryngologists (ENT doctors)
-dermatologists
We also offer psychological consultations.
How we work:
Respecting children's rights, our physicians and nurses recognise the parental right to stay with their children during hospitalisation. The guidelines of cooperation with parents are outlined in the list of regulations.
While not undergoing medical procedures, children stay in spacious, colourful rooms decorated with paintings. They can listen to stories and fairy tales, watch TV or play with toys.