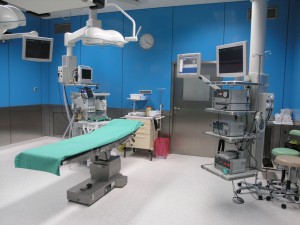 Operating Block
Operating Block manager:
Krzysztof Pisula, MD PhD
The Operating Block of Western Hospital consists of five air-conditioned operating rooms finished in stainless steel technology, in accordance with the highest international hygienic and technical requirements. A laminar ventilation system is used to keep the air sterile. The Operating Block equipment consists of: mobile operating tables, surgical and anesthetic panels, laparoscopy and arthroscopy devices, C arm x-ray device, water knife, ultrasound liga sure, diathermy. Such equipment enables a full range of surgical, urologic and orthopedic operations to be performed.
Installation of video cameras in the operating rooms allows for video transmission of operations to the conference room where courses for doctors take place.