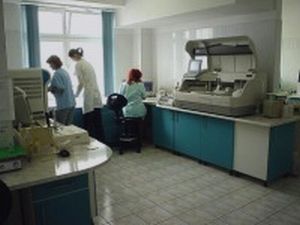 Medical Laboratory
Manager
Mariola Piszczatowska, MSc
Deputy Manager
Anna Sonecka Polok, MD, PhD
Our Medical Laboratory is a modern equipped diagnostic institution with first-class medical equipment, made by leading companies like Roche, Sysmex, Ortho-Clinical Diagnostics. These machines are all also connected to a computer network working under specialist software.
We offer a wide range of laboratory tests in the scope of clinical chemistry, coagulation, hematology, urinalysis, immunochemistry, blood group serology and transfusiology. We also do highly specialist markers (marking the levels of hormones, i.e. sex hormone, thyroid-also antibodies), cancerous markers (of PSA, CEA, CA 15 – 3, CA 19-9, Ca 125), virological tests (HIV, anty-HCV, Hbs Ag, anty-Hbs) as well as unique on our area C-peptyd, insulin, DHEAS, cortisol, digoxin, lithium, glycated haemoglobin (HbA1c).
Our medical personnel are highly qualified and experienced, and guarantee top level testing.
We have numerous certificates of quality, which were gained through long-term involvement in both domestic and international quality control procedures:
- Randox International Quality Assessment Scheme: Immunoassay Programme, General Clinical Chemistry Programme, Specific Proteins Programme, Cardiac Programme, Blood Gases Programme, Haematology Programme
- Sysmex International Quality Assurance System IQAS
- External Quality Assessment Programmes by Labquality: electrophoresis of proteins, erythrocyte sedimentation rate, virology
- Cycle of morphological, biochemical tests, immunological tests, coagulation tests, organized by the Central Testing Centre of Quality of clinical pathology in Łódź.