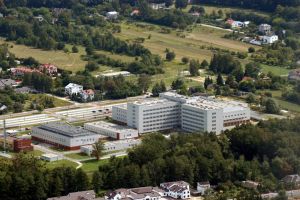 Western Hospital
The Western Hospital was established by the administrative district of Grodzisk Mazowiecki. Hospital is situated near Warsaw – the capital of Poland, on ul. Daleka 11 in Grodzisk Mazowiecki. From 2003, when the first patients arrived at our hospital, we knew that our top priority was to provide the highest quality medical services. Since the very beginning this had been guaranteed by state of the art equipment and one of the most highly educated and experienced medical staff in Poland. The underlying rule of our work is always that the patient comes first. At our hospital patients are assured a sense of safety and trust. We know that a patient's requirements are high, and that the time they spend in hospital should be accompanied by comfortable conditions and an agreeable atmosphere. To fulfill these expectations we are continuously increasing our knowledge, improving our techniques, and upgrading and expanding our medical facilities and services. Treatments performed in our hospital are comparable with those available in the rest of Europe and the United States.
Our patients are treated in the following departments: general surgery, orthopaedics and trauma, paediatrics, neurology with an apoplexy sub-unit, urology, internal ailments, cardiology, oncologic surgery, interventional cardiology, and also in specialist clinics. We have one of the most modern operating theatre blocks, composed of five air-conditioned theatres, and made of stainless steel technology. These fulfill the highest international hygiene and technical requirements. Operating theatres allow performance of a full range of surgical, neurological, orthopaedic, gynaecological and oncologic operations. Find out more about the operating theatre block.
The hospital departments are equipped for the professional treatment of patients. Patients are placed in 1, 2 and 3 person rooms with their own sanitary facilities. We also think about our patient's family, which is why the hospital has special guest rooms where members of the family can stay and rest. Our whole infrastructure is designed for our patient's individual needs. We want to make sure that during their time in our hospital they will be comfortable and in good spirits.
For the benefit and convenience of potential patients all requests sent to us via enquiry form or normal email will be responded to immediately. We will answer by e-mail, or if requested, we can contact you by phone. For our foreign guests/patients it should be noted that we are happy to arrange accommodation in Poland, as well as pick-up and transportation from the airport. In some cases we can even send a special ambulance outside of Poland to bring patients to our hospital. Find out more about transportation.
Our medical personnel meet the very highest professional standards and our state of the art equipment is maintained by a certified specialist company. Our hospital fulfils all sanitary and technical requirements governed by legal regulations.
Our hospital guarantees medical care at an international level
Come and see!
We will be happy to answer any of your further questions. Please send them to
sekretariat@szpitalzachodni.pl
or use our enquiry form.